New Images of "Deathly Hallows" Action Figures and Busts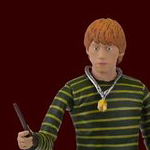 May 19, 2010
Elbenwald.de has been updated with a number of new action figures from "Harry Potter and the Deathly Hallows". The figurines, which will be available later this year, include Draco Malfoy, Hermione Granger, Hagrid, Severus Snape, Ron Weasley and Lord Voldemort.
The Ron action figure is seen wearing the locket and appears to be clutching a Put-Outer, while the Hermione figurine has a book under one arm and holds a small bag. You can find photos of these action figures and more, including Nagini and Godric Gryffindor's sword, here in our image galleries.
Additionally, the website now features new Peter Pettigrew and Severus Snape busts, images of which you can find here in our galleries.