NBC to Broadcast Half Hour Sneak Peak of Wizarding World of Harry Potter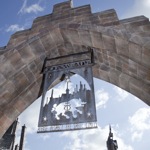 May 25, 2010
A half an hour preview of the Harry Potter theme park attraction will air on NBC on Sunday, 6th June at 7pm. A press release issued by NBC reveals that the sneak peak, entitled "The Making of the Wizarding World of Harry Potter," will "tour the immersive new land, explore the majestic corridors inside Hogwarts castle and wander the cobbled streets of Hogsmeade."
The release goes on to promise, "exclusive cast commentary and a sneak peek at the authentic detail woven through the entire environment, as well as the ground-breaking technology that will forever change the theme park attraction experience." You can read the full press release at this link.
In related news, Entertainment Weekly's upcoming issue for the 28th of May is also to include a "sneak peek at the new theme park." A picture of the cover for this edition can be found here on the Entertainment Weekly website. Please send any scans of the sneak peek to [email protected]
Thanks to UniversHarryPotter for the heads up!