Parade Magazine Profile of Wizarding World of Harry Potter, Forbidden Journey Ride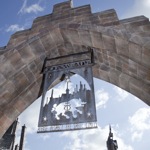 May 28, 2010
Parade Magazine has an exclusive profile along with a new video online from the Wizarding World of Harry Potter theme park at Universal Orlando. Available to read right here, the report details much of the history of the development of the sprawling attraction, as well as the many layered details as experienced from inside the attraction. The full report details the full experience of the Forbidden Journey ride at the park, with many details of the setting, premise, and story line of the experience.
In regards to the overall experience of the Wizarding World, Parade notes:
So they asked themselves the question: What makes a killer attraction? The answer: great characters, spectacular action, and magical moments. They assessed all of their Potter fodder through this lens, so soaring alongside Harry while playing Quidditch, the game played on broomsticks, was a must. So was a visit to the scary Forbidden Forest.
After choosing their key scenes, Universal Creative's team"which included Steve Kloves, the films' screenwriter"drew hundreds of storyboards covering every detail of the Forbidden Journey. They next built a "white model' a mini Styrofoam-like set that lets creators manipulate a ride as easily as kids playing with LEGOs. Located in a back-lot studio at Universal Orlando, the white model is set on waist-high platforms with a path cut in the base"big enough for designers to poke their heads through and inch along. "This gives you the best sense of what it's like to be in the ride before it's made' says Mark Woodbury, president of Universal Creative. The ride was then simulated in a computer program and fine-tuned. Construction began in late 2007 and will continue right through the opening of The Wizarding World next month.
A video walkthrough of the park can be found via this link, or below:

On a related note, Parade.com also has its Ultimate Harry Potter Quiz online, which asks questions on three different levels, based on knowledge and ability. This quiz may be taken via this link.
Many thanks to Parade Magazine!