Video of the LEGO Harry Potter Years 1 – 4 xBox 360 Demo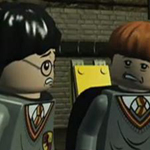 Jun 07, 2010
Hey guys: we have our newest Mel on the Leaky team: we hope you'll all welcome Mel O., our newest editor, to the news! – Mel A!
A few days ago we told you that the xBox 360 demo for the LEGO Harry Potter Years 1 – 4 video game would became available today. We now have a video of that demo.
The introduction shows different scenes from all four years included in the video game, while the playable part of the demo we see in this video appears to be only from Year 1. When we begin to see someone play the game we see Ron learning the Wingardium Leviosa spell, and then the Trio practicing the Wingardium Leviosa spell. We also get to see someone playing as Fang in the Forbidden Forest after a sick unicorn escapes from Hagrid's hut.
Xbox owners can get the demo at the xBox LIVE Marketplace. The PS3 demo will be available later this month.
Thanks to UniversHarryPotter for mailing!