Actors in the News Weekly Roundup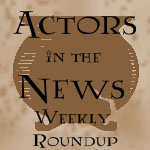 Jun 20, 2010
Despite this week's opening of The Wizarding World of Harry Potter, actors from the Harry Potter films have nonetheless featured in the news talking about future projects and plans.
Firstly, BBC Newsbeat spoke to Rupert Grint (Ron Weasley) about celebrities visiting Leavesden Studios and the recently released film "Wild Target," in which Grint stars alongside Bill Nighy (Rufus Scrimgeour). Asked whether he had taken any souvenirs from the Harry Potter set, Grint replied:

I took the golden egg that was in the fourth film – a dragon egg. Apparently it was worth a few thousand dollars. I put it in a pillowcase, it was with James Oliver [sic], it was a joint effort. But they tracked it down and got it off us.
You can read the full article on the BBC website at this link.
Thanks to our Order Partner RupertGrint.net, we can also tell you about a new interview LoveFilm.com conducted with Grint at the "Wild Target" press junket. Interspersed between clips of the film, the actor discusses his character, the appeal of the role and working with big names in the film industry. You can watch a video of the interview via this link; an additional LoveFilm interview with Bill Nighy can be found on the LoveFilm YouTube channel at this link in which the Rufus Scrimgeour actor talks about his co-stars and how "Wild Target" came together.
The Sun interviewed Tom Felton (Draco Malfoy) about his experience on the Harry Potter
films, which, Felton says, "has been like ten years of [acting]
lessons." Felton also mentioned that the actors "talked about it but
all wimped out" of getting Harry Potter related tattoos and played at
guessing where everyone would be in five years time. "I'm a keen
musician, so apparently I'm going to be doing Harry Potter The
Musical," said Felton. You can find the interview on The Sun website.
Domhnall Gleeson (Bill Weasley) gave an interview to Irish Central in which he spoke about his last day of filming Potter ("a battle scene so there wasn't a huge amount of character work") and his newly shot short film, "Noreen," which will be shown at the Palm Springs film festival. Gleeson both wrote and directed "Noreen," which stars both father Brendan Gleeson ("Mad-Eye" Moody) and Domhnall's brother, Brian. "I did worry about being the ˜little Gleeson' ' I'm sure if my dad was a
carpenter and I wanted to go down that route too it would be the same
thing," says Domhnall, "But I'm well over that now though." Read the full interview at this link.
Entertainment industry website The Wrap has received confirmation from Warner Bros. that Clémence Poésy (Fleur Delacour) will guest star in the next series of "Gossip Girl." The studio would not give away any details about Poésy's character or in how many episodes the actress would star; read more at The Wrap.
Lastly, Daniel Radcliffe (Harry Potter) told Access Hollywood that he would "absolutely" consider appearing on television programme "Glee" if he were asked. "[It's] an amazing show," said Radcliffe, "and I [would] obviously be honoured to be asked […] But, I'm not sure I'm ready for that yet. They've got standards like Kristin Chenoweth!" The actor also briefly talks about his role in the 2011 revival of "How To Succeed In Business Without Really Trying"; you can read the article here on the Access Hollywood website.