Helping Haiti Heal Finale LiveStream Tomorrow, June 27, from 2 PM – 5 PM EST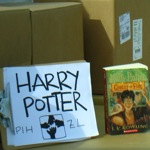 Jun 26, 2010
As readers will recall, a few months back Harry Potter fans and fans from communities across genre and medium came together to raise money for Partners in Health, a charitable organization working to bring aid and relief services to Haiti. Together, we raised $123,000 for Partners in Health- enough for five cargo plans loaded with relief supplies to be sent to the country. Tomorrow, June 27, we will come together once again to close out the effort and re-raffle the complete set of Harry Potter novels signed by author J. K. Rowling. The event will start at 2 PM EST tomorrow, June 28, and run until 5 PM EST via LiveStream here.
The organization which won the books in our original raffle, The Association of Electrical Contractors, donated the books back in order for us to raffle this one-of-a-kind prize for the benefit of AEC's scholarship foundation and Kamp Kiwanis. In order to secure your chance at these books and donate to this cause, click here and purchase a raffle ticket now.
This LiveStream will feature Melissa Anelli, John Noe, Frankie Franco from PotterCast; Andrew Sims and Ben Schoen from MuggleCast; Harry Potter actress Evanna Lynch (Luna Lovegood); Wizard Rockers; the Hogwarts Radio Crew; exclusive interviews Partners in Health creator Paul Farmer and their executive director Ophelia Dahl; and some more surprise guests.
The last plane, called Dumbledore, made its way to Haiti earlier in the week, and Harry Potter author J. K. Rowling sent her gratitude to the Harry Potter Alliance for this "awesome" effort. The note can be read via this link.
See you then!