Actors in the News Weekly Roundup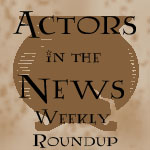 Jun 27, 2010
The music video for "Say You Don't Want It" by One Night Only in which Emma Watson (Hermione Granger) stars can now be seen on the band's YouTube channel. In a new take on the "Lady and the Tramp" plot, Watson's character is seen around New York City, accompanied by the band's lead singer George Craig. Craig additionally modelled alongside Emma in the Burberry Spring/Summer 2010 campaign. The single will be released on the 16th of August and the One Night Only's second album is out a week later on the 23rd August. Watch the video for "Say You Don't Want It" at this link.
In related news, Jo Whiley conducted a short interview with Watson and the One Night Only frontman at Glastonbury, which took place this weekend in Somerset. The BBC Radio 1 DJ spoke to Emma about the bands she's seen and what the actress has been up to at the festival so far. Watson also spoke briefly about the role she had in creating the premise of the "Say You Don't Want It" music video. You can listen to the interview on BBC iPlayer via this link; Emma starts talking at approximately 47 minutes in and the interview lasts just under six minutes. Update: You can now find photos of Emma Watson at Glastonbury in our galleries at this link.
Robert Pattinson (Cedric Diggory) attended the "Eclipse" premiere in Los Angeles this week. The premiere for the third film in the Twilight saga took place on the 24th of June; you can find plenty of photos of Pattinson from the event here in our galleries.
Also in our galleries are some new photos of Jason Isaacs (Lucius Malfoy) at the 2010 Solange Azagury-Partridge Store Opening. The event took place at the new shop on Bond Street over a fortnight ago on the 10th June. Find the photos here in the Leaky galleries.
Lastly, independent film "Skeletons," in which Jason Isaacs stars, recently premiered at Edinburgh International Film Festival. "Skeletons"' Facebook page classifies the film as a "surreal comedy" about a pair of travelling salesmen to be released this summer. The film's website announces that "Skeletons" will be touring the UK over the next few months. "Skeletons" will be screened in many locations including London, Manchester, Cardiff, Newcastle and Liverpool. To find dates of these screenings as well as a full list of the tour's destinations, check the film's website via this link.