One Day Left to Help the HPA go FTW!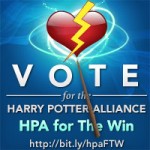 Jul 12, 2010
Uncategorized
There is just one day left in the Chase Community Giving Challenge, where the HP Alliance stands a chance at winning $250,000 to help change the world! VOTE HERE! It takes ten seconds, and another five to tell all your friends.
All MyLeaky users who do this (and send an Owl to MelissaTLC) will get one THOUSAND MyLeaky points. Do you want to be the one to tell your housemates that you couldn't be bothered to spend 15 seconds of your time, huh, huh? Go vote! Now!