Photos of Horcruxes and Hallows Props from "Deathly Hallows" Featured at San Diego Comic Con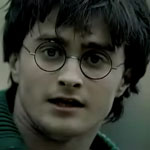 Jul 22, 2010
New photos have been released of Hallows, Horcruxes and more on display at San Diego Comic Con from "Harry Potter and the Deathly Hallows" via ComingSoon.net's preview of assorted props and products from the film. A number of products are also on display from earlier films in the series. You can find the photos in our galleries at this link or by clicking on the links below:
Horcruxes:
Hallows:
Other:
Also featured are a number of LEGO products, due to be released in October, which you can see here (Quidditch Match, Hagrid's Hut), here (Hogwarts Express, Ford Anglia, Burrow and more) and here (Hogwarts Castle). Additionally, LEGO renditions of Harry with what appears to be the Sword of Gryffindor, Hagrid and Hermione were on display; you can find a photo at this link.
Thanks to SnitchSeeker for the heads up!
As we previously told you, the Harry Potter related events are as follows:
11.45pm Saturday: Harry Potter presentation in Hall H (with Tom Felton)
3pm Saturday: Harry Potter Alliance / Chase press conference (room TBA)
2pm-3pm Sunday: Room 24ABC, Harry Potter panel with Leaky, The Harry Potter Alliance, Darren Criss and more
4pm Sunday: Harry, A History signing in the Mysterious Galaxy Booth on the convention floor