Rumor: Harry Potter Attraction Part of Theme Park to be Built in India?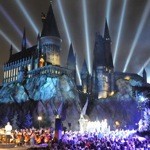 Jul 31, 2010
The Wall Street Journal is reporting an Indian company, the Reliance ADA Group, is currently in talks with Universal Studios to bring to the country of India a theme park, much like their Universal Orlando Resort in Florida, the home of the recently opened Wizarding World of Harry Potter. The reported $1.5 billion venture, the paper reports, would feature a "variety of roller coasters and rides, shops with movie-related merchandise and nearby hotels," and include "content linked to popular Hollywood movies such as "Jaws," "E.T.," "Spider-Man" and the "Harry Potter" franchise." The WSJ article continues:
Reliance's Big Entertainment subsidiary and Universal, a unit of General Electric Co.'s NBC Universal, still are discussing terms, but could reach a deal this year. One person familiar with the matter warned, however, that talks are at an early stage, and could yet break down.
A Reliance spokesman said his company doesn't comment on market speculation. Universal declined to comment.
Reliance was drawn to Universal as a partner because in addition to its own properties, Universal acquires intellectual-property rights from other Hollywood studios, such as the "Harry Potter" series from Time Warner Inc.'s Warner Bros., according to a person familiar with the situation.
While this could very well be an exciting development, this news is stationed directly in the rumor category at this time.