Harry Potter Cast Members to Attend Ring*Con 2010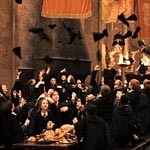 Aug 10, 2010
Several Harry Potter cast members will be attending Ring*Con, a fantasy convention held in Bonn, Germany. Tom Felton (Draco Malfoy), James Phelps (Fred Weasley), Oliver Phelps
(George Weasley), Natalia Tena (Nymphadora Tonks), George Harris
(Kingsley Shacklebolt), Nick Shirm (Zacharias Smith), and Louis Cordice
(Blaise Zabini) are all confirmed guests of the convention, which runs from October 15th to October 17th. A 3-day ticket to Ring*Con is 90 euros, and daily tickets will be made available 8 weeks before the convention. You can find out more about Ring*Con here and you can order tickets for Ring*Con here. Thanks to Ring*Con for the info!