The Oprah Winfrey Show Looking for Harry Potter Fans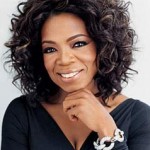 Sep 08, 2010
The Oprah Show is searching for Harry Potter fans willing to appear on the programme to talk about how J.K. Rowling and the Harry Potter series has inspired them or their family. A short description on the application to appear on the show reads as follows:
Are you or your children obsessed with the Harry Potter series? Have you read all the books and seen all the movies multiple times? How has the series helped you bond with your children or parents? Has J.K.'s rags to riches journey as a single mother-turned-billionaire inspired you? Has her story motivated you to write, start your own business or try something you've only dreamed about before?
What life lessons has the Harry Potter series taught you? Did reading about the death of Harry's parents helped you cope with loss in your own life? Have the books helped you escape from a difficult time in your own life? If you could ask J.K. Rowling a question, what would it be?
Read the full description and write in to the programme at this link on the Oprah website. There is currently no indication of when this episode will air.
Many thanks to our friends at MuggleNet for the heads up!