Actors in the News Weekly Roundup (Updated)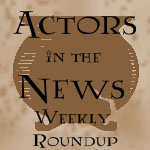 Sep 26, 2010
The Harry Potter actors have been busy this week. Firstly, fresh from the rumour mill, Emma Watson (Hermione Granger) will reportedly star in "My Week With Marilyn" alongside fellow Harry Potter cast member, Kenneth Branagh (Gilderoy Lockhart). According to the Daily Mail, Watson will play Lucy, "a wardrobe assistant working behind the scenes during the making of The Prince and the Showgirl in 1956." The British newspaper also reports that filming is to commence at Pinewood studios on the 4th of October and comments that Watson's deal for the film is "in the final stages of negotiation." This is still firmly in the rumour category; stay close to Leaky for any more news on Emma's potential role. Thanks to Ronna and Vicki for emailing in!
Alan Rickman (Severus Snape) and Fiona Shaw (Petunia Dursley), were on "The Late Late Show" in Ireland on the 24th of September. The actors appeared on the programme in anticipation of their latest project, a new adaptation of Henrik Ibsen's "John Gabriel Borkman", which opens at the Abbey Theatre on the 13th of October. Previews will take place from the 6-12th of October. Find out more information here on the Abbey Theatre website. Many thanks to Azkaban's Angel for the heads up! Update: thanks to Niamh we can now link you to the RTE website, where you can watch "The Late Late Show" – the interview with Shaw and Rickman starts approximately 16 minutes in.
The US website for "Wild Target" is now live, with new pictures, clips from the film for download and a link to download the trailer in high quality. You can find the website at this link. "Wild Target" will be released in the US on the 8th of October and stars both Rupert Grint (Ron Weasley) and Bill Nighy (Rufus Scrimgeour). Thanks to our friends at Rupert-Grint.us for the heads up!
Verne Troyer, who played Griphook the Goblin in "Harry Potter and the Philosopher's Stone," made an appearance on the third episode of Series Four of ITV2's celebrity panel show, "Celebrity Juice." A number of pictures of Troyer on his way to and from the studios can be seen here in our galleries.
Lastly, Miranda Richardson (Rita Skeeter) and Roger Lloyd Pack (Barty Crouch) attended the World Premiere of their latest project, "Made in Dagenham." The film will be released on the 19th of November in the USA. You can find a plethora of photos from the premiere at this link in the Leaky galleries.