New J.K. Rowling Interview Quotes and Image from The Oprah Winfrey Show (Updated)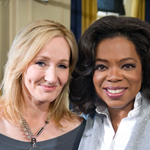 Sep 27, 2010
A press release issued today has a number of new quotations from J.K. Rowling's interview on The Oprah Winfrey Show, which will air this Friday, 1st October. Speaking to Oprah about the pressure of sudden stardom, Rowling says, "At that point, I kept saying to people, yeah I'm coping¦but the truth was there were times when I was barely hanging on by a thread."
Update: A brand new image of J.K. Rowling and Oprah can now be seen here in our galleries!
The Harry Potter author also spoke about the moment she knew her life had changed forever, during her second tour of the USA:
There was this enormous Barnes & Noble, and I thought, oh my God. And the queue snaked up the street, up the Barnes & Noble, up through four floors and they took me in the back entrance. They opened the door and they screamed. They screamed¦.That's a real stand-out moment for me. I knew it was getting big in that there was press attention and so on, but at that point, that for me…was when it felt 'Beatle-esque.'
Stay close to Leaky for more from the interview as it comes in! You can see the first images from the interview via this link.