Telegraph Special Promotion: Behind the Scenes DVD of Wizarding World Theme Park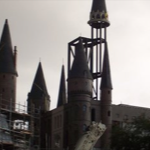 Jan 12, 2010
The Daily Telegraph is now running a new special promotion for UK residents involving the Wizarding World of Harry Potter theme park set to open this spring at Universal Studios in Orlando, Florida. In the newspapers published on Sunday, January 16th, the Telegraph will be offering readers a special edition DVD which features "behind the scenes of the magical new world" and a look at "how the creative teams at Universal Studios and Warner Brothers conceptualised the new attraction." The promotion goes on to say:

Watch interviews with the stars of the film series and get a sneak peak of the amazing new rides and attractions. You can also view an exclusive magical, 3D tour of the theme park and access brilliant interactive extras for your computer including print outs, downloads and an interactive attraction map that's just like the version from the films.
In addition to this, newspapers published on Monday the 17th, will contain a "colour mouse mat of Harry Potter and Hogwarts castle." The promotion page also notes:

Plus, all next week, claim five free exclusive gifts with The Daily Telegraph and celebrate The Wizarding World of Harry Potter, to be revealed this Spring 2010 at Universal Orlando® Resort. Free gifts include: a travel alarm clock, SD card and reader, a luggage tag, lenticular print and glossy A2 poster. Postage required.
Full terms and conditions will be published in the January 18, 2010 edition of the Daily Telegraph.