J.K. Rowling Voted Britain's Most Influential Woman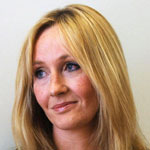 Oct 10, 2010
Some of Britain's most powerful magazine editors have voted J.K. Rowling to the top of the list of Britain's Most Influential Women, reports The Independent. The list of 100 women who have had the most influence over our lives will be unveiled tomorrow, 11th October 2010, in celebration of the 100th anniversary of the National Magazine Company (NatMag). Editor of Good Housekeeping Lindsay Nicholson is quoted as saying of the decision:


Everyone felt J K Rowling was the one with the most influence across the widest audience. As a single parent who managed to cope and pull herself out of poverty and create a massive entertainment empire on the way, she is very inspiring. […] Rowling is very careful about the way she uses her fame and is very true to herself. She didn't pursue power, fame and money in a conventional way but by writing her thoughts in a café while her baby slept.
The National Magazine Company publishes Good Housekeeping, Company, Cosmopolitan, Harper's Bazaar, Esquire and more. The company was established in 1910 by William Randolph Hearst.
Thanks to Catherine for the heads up!