"Order of the Phoenix," "Half-Blood Prince" Films to get 3D Blu-Ray Treatment for DVD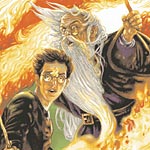 Oct 13, 2010
Variety is reporting this morning that WB is beginning the process to convert the "Harry Potter and the Order of the Phoenix" and "Harry Potter and the Half-Blood Prince" films into a 3D Blu-Ray format for release on DVD. The film studio is working with Prime Focus London, a company which has worked on the Blu-Ray conversion of WB titles in the past. Variety reports:

Studio is keeping mum about its 3D plans for the "Potter" backtitles, including street dates for 3D homevideo and whether there will be a theatrical re-release for the series. With the final four "Potter" pics in 3D, however, conversion of the earlier pics seems likely. Just as Yates has had creative oversight of 3D on his pics, conversion of the earlier titles would likely require the involvement of Chris Columbus, Mike Newell and Alfonso Cuaron, who directed the first four in the series.
…
Yates is still in post on "Deathly Hallows" and will not turn his attention to the 3D back titles until early 2011. However, the Prime Focus process is flexible enough to permit the director to view shots and ask for adjustments after most work on those shots has been done.
This news does come on the heels of WB's announcement last week that the upcoming "Harry Potter and the Deathly Hallows: Part One" film will not be released in 3D when it arrives in theaters November 19th. No tentative sale dates have been revealed for the OotP or HBP 3D Blu-Ray release, but stay close to Leaky for the latest.
Many thanks, Ashton!