Dan Radcliffe Interview and Photoshoot in Dazed and Confused Magazine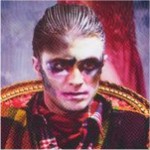 Oct 14, 2010
The November issue of Dazed and Confused magazine features both an interview and a photoshoot with Dan Radcliffe (Harry Potter), scans of which can be seen here in our Image Galleries.
In the interview, Radcliffe discusses a variety of things, such as his upcoming projects, how he sees Gary Oldman (Sirius Black) as a "mentor," his general dislike of 3D movies, and his past relationships. You can see all three pages of the interview here and here and here. Please be aware that there is some swearing throughout the interview that is inappropriate for younger readers.
Thanks very much to DanRadcliffe.com for the tip!