Leaky's Daily Quotedown to Deathly Hallows: 37 Days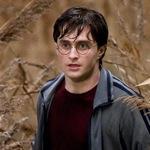 Oct 14, 2010
There are now only 37 days left until "Harry Potter and the Deathly Hallows: Part I" hits theaters! We are posting a quote from the first half of the book every day in celebration and to give us a chance to discuss and ponder the final book as it goes to film. Here is today's quote!

On this spot, on the night of 31 October 1981,
Lily and James Potter lost their lives.
Their son, Harry, remains the only wizard
ever to have survived the Killing Curse.
This house, invisible to Muggles, has been left
in its ruined state as a monument to the Potters
and as a reminder of the violence
that tore apart their family.
Harry Potter and the Deathly Hallows, "Bathilda's Secret"