Emma Watson Discusses Additional Scene to "Deathly Hallows: Part 1" With SFX Magazine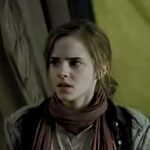 Oct 17, 2010
Emma Watson (Hermione Granger) has spoken with SFX magazine about a scene added to the beginning of "Deathly Hallows: Part 1" that was not in the book:
[Director] David Yates asked Steve Kloves to write this lovely scene
at the beginning of the movie which is not in the book, but which I feel
is very important for Hermione's character. You see her wiping her
parents' memories in order for her to start off on the adventure with
Ron and Harry. She knows that Voldemort could try to use her parents as a
device to get to her in some way, which means they might be in harm's
way. So she wipes their memories so they forget she ever existed. All
the photos of her around the house disappear. It's a really tough way
for the film to start but really important to see the sacrifices that
she has to make.
The upcoming issue of SFX will have a behind-the-scenes feature on "Deathly Hallows: Part 1."