J. K. Rowling Receives Hans Christian Andersen Literature Award in Denmark, Updated: Video and Images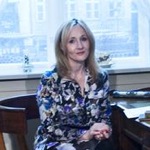 Oct 19, 2010
Harry Potter author J. K. Rowling was on hand in Odense, Denmark today to be the first recipient of the Hans Christian Andersen Literature prize. The BBC has video online from the event, which features Ms. Rowling receiving the award as well as her acceptance speech. Watch right here!
Update 2: J. K. Rowling's full speech can now be viewed via this link.
The first set of photos from the event are starting to appear online and can be seen via this link to our Image Galleries.
Update: MSNBC now has a report online which notes:
She is the first recipient of the 500,000 kroner ($93,352) award, which was handed out Tuesday at a ceremony in Odense, Andersen's hometown.
The prize is given to a person who can be compared with Andersen, the Danish writer who was born in 1805 and wrote some 160 fairy tales and poems before his death in 1875.
As we reported previously, this honor is given in the name of the prolific author of classic fairy tales such as The Princess and the Pea, The Emperor's New Clothes, The Ugly Duckling and many more beloved stories. We expect more online from the event shortly, so please stay close to Leaky for the latest.