Reminder: Jingle Spells 4 Submissions due TODAY!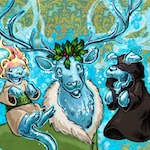 Oct 20, 2010
Posted by Melissa Anelli
Quick reminder to all of you wizard rockers: TODAY is the last day to get in an entry to our The Great Jingle Spells Contest – read the rules here, remember to send your file to [email protected] and that it must be in WAV or AIFF format. We've gotten a bunch of amazing entries so far and can't wait to share them with you!