Emma Watson Comments on Kissing Dan Radcliffe and Rupert Grint, Video of Ron/Hermione Almost Kissing from "DH: Part 2"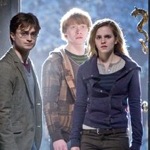 Oct 21, 2010
Emma Watson (Hermione Granger) has spoken about her kissing scenes
with co-stars Daniel Radcliffe (Harry Potter) and Rupert Grint (Ron
Weasley) and how it felt to have to kiss them after having known them
for so long:
Harry Potter star Emma Watson said she had to 'grit her teeth' during her kissing scenes in the final two movies.
Watson,
20, who plays Hermione in the movie series, has to kiss her co-stars
Daniel Radcliffe and Rupert Grint in the last film, Harry Potter and the
Deathly Hallows, which is being split into two parts.
Speaking
to Britain's SFX magazine about the scenes, she said: 'Getting into
character to kiss Dan and Rupert was tough also. Forgetting all of our
history, and our relationship.
'Putting all that aside and
being in character was pretty bloody hard, it really was. That required a
huge amount of professionalism. I really had to grit my teeth and be
like: 'I am Hermione, this is Harry – stop thinking that it's Emma
kissing Dan. It's not. It's all good."
Additionally, we have a very brief video of Watson and Grint almost kissing in a scene from "Deathly Hallows: Part 2." This video appears to be from the Ultimate Edition of "Goblet of Fire." Watch it here or below. Thanks so much to Jon for the tip!