LA Times Interviews "Deathly Hallows" Costume Designer About the Wedding Scene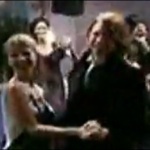 Oct 22, 2010
Jany Temime, costume designer for "Deathly Hallows" (as well as "PoA," "GoF," "OotP," and "HBP") has spoken to the LA Times about the costumes in the wedding scene. Temime comments on the mood of that scene, and how it's the "last joyous moment in the franchise with all the battles, destruction and loss that follow":
"The film is so dark and the beginning of the really dark time,
and it was the last opportunity to have something light and warm and
funny and the last light tone before all the darkness' Temime
said. "The terrible time follows. So it was very nice for us to give it
the maximum. It's like when you look at pictures of weddings right
before the war. They look happy but there's the edge to it, too. Like if
you saw the film ˜The Deer Hunter' and they had that
wedding before everything got so dramatic. They are embracing life. When
you are almost sure you are going to lose your life, you appreciate the
moment and you live for the moment. That was my approach to that
wedding scene of ours. Everyone is trying to get the maximum."
Temime also discusses the design inspiration for Fleur's wedding dress:
"For the wedding dress, I wanted it to be a witch wedding dress but not a
Halloween dress. The dress is white but it needed to have something
fantastic to it. So there is the phoenix [motif], the bird, which is a
symbol of love in a way because there is rebirth, love never dies, it
is born again. So we have that in front of the dress to give a feeling
of eternal love. It was the symbol of Dumbledore, too, but it is the
symbol of love for the dress."
Additionally, Temime comments on the overall aspects of creating costumes for witches and wizards:
"It's a world parallel to us, it's a secret society living next to the other world, our world.
They have their way and their own culture but they cannot ignore the
real world, they are next to it always. They constantly have access to
it. So I looked at extreme cultures, or the fringe or the outsiders. Any
parallel society, like the gypsies or political groups on the edge.
They have their own way of doing things but they also live in 2010 and
they cannot ignore what they see. So they have their pointed hats and
their long robes and they have their couture, but they also have blue
jeans. They have their traditions but they cannot ignore the modern
world."
You can see the rest of the article here. Thanks to Jamie for the tip!