New "Deathly Hallows: Part 1″ Images and New Ron Banner Now Online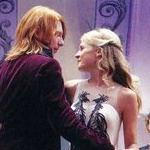 Oct 23, 2010
We have a bunch of new pictures from "Deathly Hallows: Part 1″, as well as a new banner featuring Ron.
These new images give us our first look at Great Auntie Muriel, as well as our first clear look at Fleur's wedding dress. Also from the wedding is a look at Ginny in her dress, Luna and Xenophilius dancing, and Fleur and Bill looking distressed.
There are also some new images from the end of the Seven Potters scene, one where everyone is gathered around an injured George, and another where Hermione and Ron have just arrived at the Burrow.
Additionally, there are images from when the Trio set out on their own to find the Horcruxes. There are new shots of them at Grimmauld Place, Ron looking at the Ministry entrance, Ron after he's been splinched, the Trio in and outside of the tent, the Trio running from Snatchers, "Hermione reacting to Ron's return," and the Trio approaching the Lovegood's house. There is also a behind the scenes look at Emma Watson (Hermione Granger) sitting with her doubles.
You can see all of these pictures here and here and here in our Image Galleries.
Thanks so much to SnitchSeeker and Oclumencia!