Introducing LeakyPedia!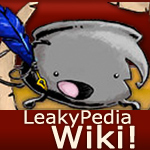 Oct 24, 2010
We are excited to bring you a new and fun feature here on Leaky: LeakyPedia, our Harry Potter wiki!
On LeakyPedia you can collect and record facts on the canon, the films, the park, JKR, the fandom, and more. We aim for it to eventually become a true record of this community (though this will happen in the fullness of time, as content is submitted and edited).
This will be the first time our community can edit the content of our website itself, and as the wiki becomes full and accurate it will start being more integrated with the site. As a wiki is something anyone with an account (and this will be separate from your MyLeaky logins) can edit, there will be, in the beginning, some incorrect info: but that's the exciting part. It will be up to the community (and our moderators) to keep things moving and accurate.
We're so excited to get you directly involved in the content of Leaky – so what else is there to say? Go to it! Click here to get started on LeakyPedia!
Big thanks to Sarah, Josh, John and everyone who worked so hard to get this online!
(This is one of the things we said we were bringing you in July. Blame the nargles!)