Daniel Radcliffe "Desperate" to See "Deathly Hallows"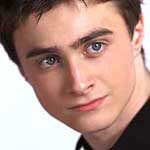 Oct 28, 2010
As part of their countdown to "Deathly Hallows: Part 1," the LA Times HeroComplex blog has posted a brief interview with Dan Radcliffe (Harry Potter) where he discusses his own excitement about the movie:
"When I saw the trailer I almost wept. I was so happy' Radcliffe said in a recent phone interview.
"When you're on a film for that long, shooting for months and
months, you forget half of what you've done and you lose sight of it
all' Radcliffe said. "It's such a long process that you start to worry
and wonder if what you've done is going to meet expectations. Sometimes
you lose sight. You don't know what you've done and what you've got.
That's where I was when I saw the trailer. I saw it and I went, ˜Oh God, it's going to be great. We've done it. We've done well and it's going to be great.' It was such a joyous moment. They showed it to us on the last day [of principal photography in June] and we were just thrilled.
We let out this amazing cheer. I'm like everybody else now: I'm
desperate to see the film. And I'm desperate for fans to see what we've
done."
You can see the article here. "Deathly Hallows: Part 1" opens in less than a month, on November 19th.