Actors in the News Weekly Roundup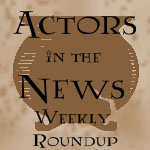 Oct 03, 2010
This week's actor roundup begins with a BBC bonanza for members of the Harry Potter cast as David Tennant (Barty Crouch Jr.), Alan Rickman (Severus Snape), Emma Thompson (Sybill Trelawney), Michael Gambon (Albus Dumbledore) and Helena Bonham Carter (Bellatrix Lestrange) all appeared in the BBC's Drama Autumn/Winter 2010/2011 showreel. Emma Thompson and Alan Rickman will star in "The Song of Lunch" on BBC Two this Friday at 9pm. David Tennant will star in "Single Father" on BBC One next Sunday at 9pm. Check the BBC TV Guide for all other listings.
You can watch the showreel below, courtesy of the BBC:
Miranda Richardson (Rita Skeeter) attended the Metropolitan Opera's 2010 Opening Night of "Das Rheingold." The actress was in the company of Patrick Stewart, Meg Ryan, Kerry Washington and more at the Season's Opening Night. You can find pictures of Richardson at the event in the Leaky Galleries, at this link.
Bill Nighy (Rufus Scrimgeour) attended the Creative Arts Schools Trust Launch and Fundraiser on the 30th of September. The event was held at the BFI Delegate Centre. CAST's mission statement is to "look at local governments, their education criteria and creating
workshops that both support and amplify their own teaching policies." The trust was set up by Actor/Director David Morrissey after visiting the Palestinian camps in 2009. Images of Nighy at the event can be found here in our galleries.