Leaky's Daily Quotedown to Deathly Hallows: 19 Days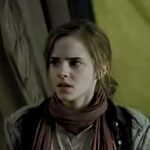 Oct 30, 2010
There are now only 19 days left until "Harry Potter and the Deathly Hallows: Part I" hits theaters! We are posting a quote from the first half of the book every day in celebration and to give us a chance to discuss and ponder the final book as it goes to film. Here is today's quote!
"When you stripped this house of all its valuables you could find," Harry began again, "you took a bunch of stuff from the kitchen cupboard. There was a locket there." Harry's mouth was suddenly dry: He could sense Ron and Hermione's tension and excitement too. "What did you do with it?"
Harry Potter and the Deathly Hallows, "The Bribe"
Quotedown 20:
"Who wouldn't prefer him, what woman would take you, you are nothing, nothing, nothing to him," crooned Riddle-Hermione, and she stretched like a snake and entwined herself around Riddle-Harry, wrapping him in a close embrace: Their lips met.
On the ground in front of them, Ron's face filled with anguish. He raised the sword high, his arms shaking.
Harry Potter and the Deathly Hallows, "The Silver Doe"
Quotedown 21:
"Your wand's here, son," said Ted, tapping it on Harry's arm.<p>"It fell right beside you, I picked it up. And that's my wife you're shouting at."
Harry Potter and the Deathly Hallows, "Fallen Warrior"