Official "Deathly Hallows: Part 1" Site Updated With Movie Clips, New Behind the Scenes Featurette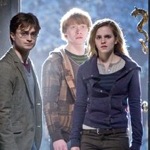 Oct 31, 2010
There have been some new additions to the official site for "Deathly Hallows: Part 1," such as a gallery, a place to hear clips from the soundtrack, a section about the movie, and clips from the movie. You can see these short clips when you click on different sections of the site, and they are also available on YouTube:
Nagini attacking
Moody flying next to Harry
The Lovegood house under attack
Outrunning dementors in the Ministry
Hagrid accelerating the motorbike
Bellatrix throwing the knife at Dobby
Harry sees into Voldemort's mind
The Trio being chased by Snatchers
Hagrid and Harry on the motorbike
Voldemort gets the Elder Wand
Harry running through the Ministry
Dobby in Malfoy Manor
Additionally, there is a new behind the scenes look at the story of "Deathly Hallows: Part 1" featuring new footage (both from the movie, and from behind the scenes) and interviews with Daniel Radcliffe (Harry Potter), David Yates (director), David Barron (producer), Rupert Grint (Ron Weasley), and Emma Watson (Hermione Granger) about the story elements of "Deathly Hallows: Part 1." Watch it here or below. Thanks very much to Christina for the tip!