Hot Topic Celebrates the Release of "Deathly Hallows" with In-Store Boutiques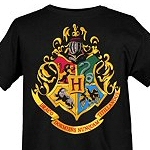 Nov 04, 2010
Continuing their longstanding partnership, Hot Topic and Warner Bros. have announced the addition of mini Harry Potter merchandise boutiques within select Hot Topic stores throughout the United States and Canada.
In a press release, WB notes that the mini boutiques will offer numerous Harry Potter products ranging from Hot Topic's exclusive Gryffindor and Slytherin polo and tie combination tees, bags, jewelry, key chains, posters, and much more.
In addition to the boutique, an in-store mobile application for the iPhone and Android will also offer fans the chance to unlock digital "badges" representing Hogwarts and the four school houses. Badges can be unlocked weekly by visiting a Hot Topic store and challenges and prizes (such as 20% off any in-store Potter item) will be offered.
Some of the whimsical challenges included in the mobile app require fans to dress up as their favorite character and pose for the camera or describe their least favorite flavor Bertie Bott's Every Flavour Beans.