Videos: Dan Radcliffe on "Daybreak," Trio on Sky News and Other Cast Interviews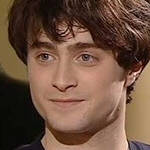 Nov 10, 2010
The cast of "Harry Potter and the Deathly Hallows" have begun making appearances on various television programs throughout the world.
The first is in the UK where Daniel Radcliffe (Harry Potter) was a guest on the morning program Daybreak. You can watch that video here. Dan mentions that he is "happier with this film than any of the others" and shoots down some extravagant rumors about himself.
Sky News also has one of the first junket interviews with Dan Radcliffe, Rupert Grint (Ron Weasley), and Emma Watson (Hermione Granger) in which they briefly talk about the final day of filming and what the future may hold for them.
Meanwhile, Tom Felton (Draco Malfoy) was interviewed on Sunrise in Australia and James and Oliver Phelps (Weasley Twins) had fun on the Belgium TV show "Jim."
In addition to these interviews, a 20th TV spot for "Deathly Hallows: Part 1″ was also captured and added to the gallery for your viewing pleasure!
Big thanks to the Leaky video crew!