"Deathly Hallows: Part 1" World Premiere Live from London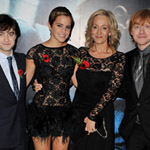 Nov 11, 2010
Update: The live broadcast from the "Deathly Hallows: Part 1" World Premiere in London has now finished. Scroll down for quotes and pictures of the cast and crew and stay tuned for exclusive video and more from Leaky, who attended this evening's premiere!
With just over half an hour to go before the live stream begins, a reminder that both Livestream and UStream will be broadcasting the red carpet arrivals at the "Harry Potter and the Deathly Hallows: Part 1" World Premiere in London's Leicester Square from 12pm ET / 5pm GMT. The stream is embedded at the bottom of this post.
TLC is in attendance and will also provide complete coverage of the premiere right here in this post. Stay tuned and be sure to follow @Leaky on Twitter for up to the minute updates! Leaky's exclusive footage from the premiere will be up later today, so stay close for that, too!
4:39 pm GMT / 11:39 am ET: The first few pictures of fans waiting behind the barriers for the stars to arrive can be seen right here in our galleries, which will be updated throughout the evening with up to the minute pictures from the premiere.
6:43pm GMT / 13:43 pm ET: At this point, Rupert Grint, Emma Watson, Tom Felton, Daniel Radcliffe, Imelda Staunton (Professor Umbridge), Mark Williams (Mr. Weasley), J.K. Rowling, John Hurt (Ollivander) and Evanna Lynch (Luna Lovegood) have all arrived. Keep checking Twitter for up to the minute updates!
6:49pm GMT / 13:49 pm ET: Harry Potter author J.K. Rowling is now being interviewed on Livestream, check it out below!
8:00pm GMT / 15:00 pm ET: New photos in the galleries, including some of J.K. Rowling, Daniel Radcliffe, Rupert Grint, Emma Watson, Bonnie Wright (Ginny Weasley), Tom Felton and Evanna Lynch at the premiere.
8:10pm GMT / 15:10 pm ET: Whilst everyone is inside watching "Harry Potter and the Deathly Hallows: Part 1," here is summary of a number of quotes from the HP cast and crew, via the @Leaky Twitter account:
Jason Isaacs (Lucius) calls Lucius Malfoy a "broken man" in Part 1
David Heyman (producer): "David Yates has done the most incredible job with these films."
Emma Watson (Hermione) was most nervous about filming the torture scene with Bellatrix
Harry/Hermione dance is one of David Yates' favorite scenes
David Yates (director): Finished "Deathly Hallows: Part 1" three weeks ago
Helena Bonham Carter (Bellatrix) spilling some movie secrets during the live stream!
JK Rowling about the end of the films: "I've already been through my grieving process, so I can counsel everyone else tonight."
JK Rowling: "I think the fans are going to love this film. It's my favorite!"
Malfoy Manor even has its own organ, according to Tom Felton!
Tom Felton's (Draco) favorite Death Eater is Lucius, of course!
Evanna Lynch (Luna Lovegood) says her character is a "good role model"
John Hurt (Ollivander): "I've never known anything like the Harry Potter films"
"Thank you so much to everyone for supporting these films!" – Daniel Radcliffe (Harry)
Dan Radcliffe said it was "fantastic" to be on location instead of filming year-round in Leavesden Studios.
Bonnie Wright (Ginny) says ending of Part 1 is "perfect."
Rupert Grint says about Ron in #DeathlyHallows: "He goes on quite a journey. There's a lot going on in his head. He's jealous and paranoid."
Mark Williams (Mr. Weasley) interviewed on Live Stream. Admits he hasn't seen the film yet, but is looking forward to it
8:51pm GMT / 15:51pm ET: Even more new photos have been added to the Leaky galleries, including a photo of J.K. Rowling with Dan Radcliffe, Emma Watson and Rupert Grint and photos of Helena Bonham Carter, the trio and Clémence Poésy.
9:31pm GMT / 16:32pm ET: Photos continue to be added to the galleries including this one of Katie Leung (Cho Chang) and more pictures of the trio here and here.
10:31pm GMT / 17:10pm ET: Find a fun photo of Emma Watson with some Death Eaters at this link.
12:09am GMT / 19:09pm ET: New photos of James and Oliver Phelps (Fred and George Weasley, respectively), a larger cast shot, John Hurt, Imelda Staunton, Ralph Fiennes and more are now in our galleries.
You can watch the broadcast below, courtesy of Livestream. Alternatively, you can watch the broadcast on Livestream and UStream's respective pages:

style=" padding-top: 10px; text-align: center; width: 560px;">Watch live streaming video from harrypotter at livestream.com