HeroComplex Interviews James and Oliver Phelps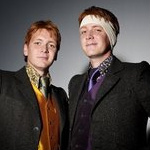 Nov 12, 2010
LA Times' HeroComplex Blog has posted a new interview with James and Oliver Phelps (Fred and George Weasley). The interview, which contains plot spoilers for Harry Potter and the Deathly Hallows, focuses in large part on the actors' experience over the past ten years, particularly as filming came to an end.
Speaking about filming Fred's final scene, James said:

"To be honest with you, I think ever since we started these movies, not specifically this character, but I've always wanted to die on screen […] So I guess that was something ticked off the box. […] I just had to lie there' he said. "I guess that was quite easy."
Oliver discussed how it was to film losing an ear and, more traumatically, losing a brother:

Losing an ear also proved pain-free for Oliver. "It was amazing how comfortable it was, losing an ear' he said. "I've always wanted a bit of a gory effect, really, in any of the films, so to get to do something like this was really cool." Less exciting for Oliver was having to play the part of a brother who survives his twin.

"I had to get myself into that mindset of what it would be like and try to make it feel as real as possible' Oliver said. "There's a scene where he's laid out in the Great Hall, and to look at that, that was really surreal, actually, because they pale him up and everything. For me, it was really quite an odd scene to film, especially because I was supposed to be crying my eyes out, and to do it with the whole Great Hall full of people, as well. It was a different day of filming from anything we'd done before."
The brothers also spoke about the films as an education in acting:

Oliver said that he and James often turned to Julie Walters, who plays Molly Weasley, for her advice on working specific scenes. And when the brothers were going to perform a reading with the Hallé orchestra, Michael Gambon read through the lines with them, showing them how he'd perform it. "I think we've almost been spoiled, really. It is almost like leaving a university-type place where we've had these great lecturers we've been able to always go to to advice' Oliver said. "We've been at Hogwarts for longer than most people have been at high school." Oliver speculates that George Weasley's character has rubbed off on his "subconscious state" after a decade playing the prankster on screen.
Whilst there was much discussion of the 'identical' part of being an identical twin, the actors also spoke to how both their characters and themselves are different:

"We may be completely wrong, but to us it kind of seems that Fred's a bit more of the leader, and George kind of just goes with it, which is completely different to Oliver and I, because we're both trying to boss each other around' James said. "When people aren't twins or haven't got twins in the family, they kind of relate them as just one group."

Oliver said he and James support rival soccer teams. James dresses more casually. "And I'm definitely the tidiest of the two of us' Oliver said. "Definitely. We live together, and it always seems to be me putting the dishes away."
The interview ends on a note of Gryffindor pride, with James and Oliver describing the Weasleys as true Gryffindors:

"Fred and George are pranksters, and Ron's clumsy, and whatnot; I think deep down, all the Weasleys have got a good heart on them. They may not have a lot, but they like to share it' James said. "It's about being courageous, never-say-die, always keep going' Oliver said. "They show that later on, certainly in the ˜Deathly Hallows,' when they're prepared give it their all, give up everything they have for the greater good."
You can read the full interview at this link.