Location Announced for Harry Potter Fan Premiere Party in NYC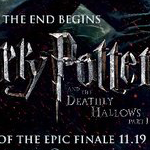 Nov 13, 2010
The location has been announced for the post-premiere fan party Leaky is throwing along with our friends over on MuggleNet! The party will be held between 7 and 11.30pm on Monday, 15th November, after the red carpet arrivals of the Harry Potter stars at the US "Harry Potter and the Deathly Hallows: Part 1″ premiere in New York City. The party will take place at the following location:
R Bar
218 Bowery St (Between Prince Street and Spring Street)
New York, NY
Cover is $10 per person, and the event is all ages (over 21s ONLY may purchase alcohol). Please visit this Facebook page to let us know if you're coming and please only confirm the Facebook event if you can confirm that you are going! We hope to see you there!
Big thanks go to The Group That Shall Not Be Named and the band Lily and James for all their help!