LEGO Harry Potter: Years 1-4 Unveiled for iPhone, iPad and iPod Touch; New iPad Screenshots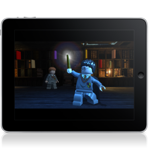 Nov 15, 2010
Warner Bros. and TT Games unveiled the first LEGO Harry Potter game for the iPhone, iPad and iPod Touch last week. Leaky was sent screenshots from the upcoming release in use on the iPad, along with the following description of LEGO Harry Potter: Years 1-4:

LEGO Harry Potter: Years 1-4 will bring the world of LEGO Harry Potter to life on the iPhone, iPod touch and iPad, giving gamers the power to play with LEGO characters and models in a brand new way. Based on the first four Harry Potter books and movies, LEGO Harry Potter builds on the foundations of previous LEGO videogames by offering a mix of fun, accessible gameplay and light-hearted humour ' which appeals to all ages. Players will explore and feel as though they are ˜at Hogwarts'
The iPad screenshots can be found here in our galleries. The game's trailer will follow shortly.