Live from the "Deathly Hallows: Part 1" US Premiere in New York City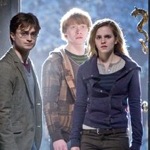 Nov 15, 2010
The Harry Potter stars have begun to arrive at the "Harry Potter and the Deathly Hallows: Part 1" US Premiere in New York City's Alice Tully Hall. Leaky is on the red carpet ready to bring you exclusive footage!
Update: The live streamed coverage is now over, but stay close to Leaky for more images, videos and more from the red carpet to be uploaded throughout the evening.
7.22 pm ET: The actors all seem to have gone into the screening. Answering a question about why Radcliffe hadn't gone the route of the arrogant child star stereotype, the Harry Potter actor said, "there are hundreds of thousands of actors who aren't arrogant and you only hear about the ones who are." Speaking to his excitement for more adult roles, Radcliffe said he was currently "playing a father and a widower [in The Woman in Black] but I do want to play my own age at some point." Of his preparations for How to Succeed in Business Without Really Trying, Radcliffe said his dancing and singing lessons were going well and that "singing is something I am comfortable with, dancing… not so much!"
7:20 pm ET: Emma Watson's dress is Calvin Klein.
7:17 pm ET: Lots of questions about the kisses this evening, Watson said Radcliffe was "a real gentleman" and of his comments about his kiss with Emma, Radcliffe chuckled and said, "I said this in an interview and I was so stupid to say it but 'animal' in the context that I was talking about it is purely complimentary"
7:16 pm ET: Emma Watson: "I'm meant to be in school but I wouldn't miss this for the world."
7.12 pm ET: Rupert Grint: "never being invisible is pretty crazy". Rupert wasn't allowed to be in the room during the kiss scene with Emma and Dan because he kept laughing.
7.08 pm ET: Daniel Radcliffe on what he would tell himself 10 years ago: "The same advice my parents told me: don't ever read the articles people write about you or watch the
interviews." On hanging out with his co-stars post Potter: "We're all going to be quite busy but I'll be in the same country as Emma next year so no doubt we'll be hanging out quite a bit"
7.07 pm ET: Hmmm… is that AVPM, AVPS and now, "Glee" star Darren Criss Leaky sees before us?
7.03 pm ET: Spotted on the red carpet: Madonna's daughter, Lourdes.
6.58 pm ET: Daniel Radcliffe has arrived in the press area. Emma Watson is taking photos with Sarah Jessica Parker.
6.48 pm ET: Spotted on the red carpet: Sarah Jessica Parker and Matthew Broderick!
6.46 pm ET: Daniel Radcliffe is yet to arrive.
6.44 pm ET: Emma Watson has arrived.
6.41 pm ET: Ralph Fiennes (Voldemort) arrives says he enjoys the films more and more because of the familiarity, of Voldemort"he's all evil, 100%". Fiennes says Harry Potter fans were definitely the "most vocal". Also spotted on the red carpet: Liam Neeson! Rupert Grint, Tom Felton have also arrived already.