Radcliffe and Watson confirm "DH: Part 2" Ending Reshoots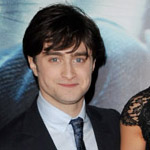 Nov 15, 2010
HitFix has some new quotes from Daniel Radcliffe (Harry Potter) and Emma Watson (Hermione Granger) confirming that they are re-shooting parts of the "Harry Potter and the Deathly Hallows: Part 2" epilogue at Christmas:
"We are re-shooting some parts of it," Radcliffe confirms. "It was an interesting one. I think we made it very hard on ourselves because we shot it at King's Cross for real. And this time we'll be shooting it at Leavesden on set. To have to rush that sequence and it's an important sequence, is not something any of us want to do." Radcliffe continued and reiterated, "It's a train station and people actually needed to use that platform. We made it very hard on ourselves and we really want a slightly slower, more measured pace next time."
Speaking at the "Deathly Hallows: Part 1" World Premiere in London last week, Emma Watson described filming in a real station as "stressful":
"I mean, you can imagine, we stopped trains when they said we could do the scene. I mean, we are special – we are 'Harry Potter,'" Watson says in an intentionally sarcastic and light-hearted tone. "We only had two days to shoot it and we needed so much more time than that. We have reshoots at Christmas."
"Harry Potter and the Deathly Hallows: Part 2" is slated for release on the 15th July, 2011.