Videos: Rupert on "Regis and Kelly", Malfoys and Bellatrix Featurette, New "DH: Part 1″ TV Spot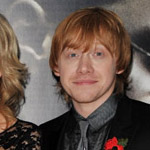 Nov 15, 2010
We now have Rupert's interview this morning on "Live! With Regis and Kelly" in the Leaky Video Galleries, at this link. Rupert is interviewed about his ice-cream van, receiving pyjamas from
fans and his role in "Harry Potter and the Deathly Hallows: Part 1″.
Secondly, the new Xfinity TV/Comcast "Deathly Hallows: Part 1″ featurette on The Malfoys and Bellatrix can be seen here in our video galleries. This very spoilery video looks at the roles of Lucius, Narcissa and Draco Malfoy and
Bellatrix Lestrange. There are interviews with the actors, producer
David Heyman and director David Yates; we also see some footage from the
film.
Lastly, Warner Bros. released a new TV spot this evening including critics' reviews for the film. You can watch the new TV spot at this link in our video galleries.