EBay Auction Underway for Signed First Edition of Deathly Hallows to Benefit MS Charity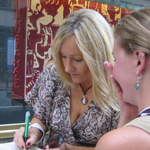 Nov 16, 2010
A signed first edition of Harry Potter and the Deathly Hallows is being auctioned off on eBay at the moment to raise money for The Bristol and Avon Multiple Sclerosis Centre (BrAMS). The auction will end in just under five days. The copy was signed by J.K. Rowling at the National History Museum on the night of Deathly Hallows' release.
A reserve price of £1,800 has been put on the lot. Says a BrAMS press release:

The items have been collected by Grant Thompson, who has MS and attends the BrAMS centre. Grant dedicated the last two years of his life to contacting famous authors and celebrities and collected a whopping 600 signed items in total. Some of these items were auctioned last December but the rest are still available.
All of the BrAMS items are available on eBay at this link and you can find the bidding page for Deathly Hallows right here.