Evanna Lynch and Domhnall Gleeson Attend Irish "DH: Part 1″ Premiere in Dublin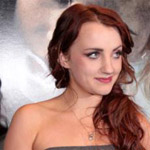 Nov 16, 2010
Last night the Irish "Harry Potter and the Deathly Hallows: Part 1″ Premiere also took place at Dundrum Cinema in Dublin, Ireland. Irish news websites Entertainment.ie and Herald.ie both have stories about the premiere featuring new quotes and pictures of Evanna Lynch (Luna Lovegood) and Domhnall Gleeson (Bill Weasley), who attended the event. You can find the photos from the premiere here in our galleries.
Some quotes from Evanna, courtesy of the Evening Herald:
"I'm repeating the Leaving Cert, sadly, but I hope to continue acting afterwards," the actress explained. "That's the thing with acting. It can be a very unsteady business so I
want to make sure I have something to fall back on in case I want to go
to college. I love acting, though. It's a great career when you're young and
you're meeting people and you don't quite know what to do with your
life. Harry Potter has always been a big part of my life, I started reading it when I was just eight. I think we [she and her co-stars] all know that it's not really
over. There will still be premieres and press. People are always going
to be interested in Harry Potter. We all stay in touch."
"I love writing and I've always enjoyed it but I'm not going to say
I'm going to write a book or anything right now because there would be
too much pressure. And I feel too inexperienced. I write just for pleasure now, but I
think when I'm older it's something I would like to do," she said.
The newspaper reports, "Evanna was joined by all of her family and said even her English teacher came out to support her on her big night." Find the full article at this link.