"House Brawl" Potter-Themed T-Shirt Now Available on Threadless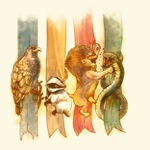 Nov 16, 2010
Artist community Threadless have released a "House Brawl" t-shirt and hoody last week in celebration of the release of "Harry Potter and the Deathly Hallows: Part 1." The four houses of Hogwarts are represented in the design, which features the Ravenclaw eagle, Hufflepuff badger, Gryffindor lion and the Slytherin serpent. The design was created by Alex Solis and Alice X. Zhang, described by members of the company as "Threadless all-stars"!
You can purchase the t-shirt and hoody, find images of both products and see pictures of the design in more detail here on the Threadless website. The Girly Tee, Girly Boat Neck Tee and Guys Tee all cost $18, while the Zip-Up Hoody is priced at $40.
Thanks to the lovely people at Threadless for bringing this to our attention!