Tom Felton Talks Superheroes, Narnia, Jack Sparrow and Being Draco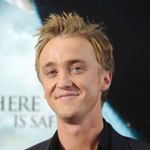 Nov 16, 2010
Tom Felton (Draco Malfoy) has given a new interview to Metro US in which he discusses how Draco would match up against other film superheroes from the Narnia children to Jack Sparrow. Quotage:

What's the best thing about playing someone evil?
It's so nice to play someone so well written, and someone that's so different from Tom. Draco's not an evil child at all, quite a soft sweetheart really. He's a victim of circumstances and a victim of terrible parenting. He was the most evil when he was young, as he's grown older and in this film he's grown a conscience for the first time.
How about the kids from Narnia?
They're pretty tame. They've got no hope. It wouldn't even get physical. It would be merely verbal " he would spit out a few distasteful remarks and they'd run off back into the wardrobe.
You can read the full interview at this link.