Videos: Emma on "Regis and Kelly","The Thread"; Rupert on "Movies Ireland"; Dan on "Jimmy Fallon"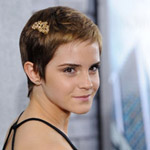 Nov 16, 2010
We have even more cast interviews for you in our video galleries this evening! Caution: These videos contain clips from the upcoming "Harry Potter and the Deathly Hallows: Part 1″ film.
Firstly, Emma Watson (Hermione Granger) spoke to The Thread about Hermione's fashion transformation and her own, with the actress commenting that she "had fun" with fashion from the very first premiere. Emma also spoke about and her new clothing collection with Alberta Ferretti, which we told you about last week. You can find that video at this link in our video galleries.
Watson also appeared on "Live! With Regis and Kelly" this morning and you can watch her interview right here in our galleries. A reminder that Daniel Radcliffe will appear on the programme tomorrow morning.
Rupert Grint (Ron Weasley) was interviewed by Movies Ireland and spoke about what he will miss about Ron, his future career and what he will take from the set – you can watch the video here in our galleries.
Last, but never least, Dan Radcliffe (Harry Potter) was on "Jimmy Fallon" last night. The actor chatted about getting lost in New York and returning to the city for his new stage musical, "How to Succeed in Business Without Really Trying." You can find that video right here.
Don't forget to check out Leaky's footage and interviews with the trio from the "Deathly Hallows: Part 1″ US Premiere Red Carpet on the Pottercast YouTube channel at this link.