Videos: PopSugar TV Interviews Trio at "DH: Part 1″ US Premiere in NYC, Compiles Hermione Film Quotes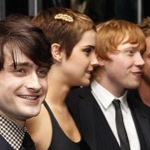 Nov 16, 2010
PopSugar TV, one of the sites to host a webstream of the "Harry Potter and the Deathly Hallows: Part 1″ U.S. Premiere in New York City last night has uploaded a couple of fun new videos.
The first video includes footage of Emma Watson (Hermione Granger) at the premiere talking about how she skipped some of her classes to be there but "wouldn't have missed it for the world". Rupert Grint (Ron Weasley) was also interviewed and Daniel Radcliffe (Harry Potter) chatted about his new role in musical "How to Succeed in Business Without Really Trying". The video also includes clips of Madonna's daughter Lourdes, Sarah Jessica Parker and Matthew Broderick. Lastly, this video features a short clip of "AVPM" star Darren Criss commenting on his recent role in "Glee" Caution: the video contains some spoilers and clips from the "Deathly Hallows: Part 1″ film. You can find the video here on the PopSugar website or embedded below.
Secondly, PopSugar TV have uploaded a video titled "Hermione's Words of Wisdom," featuring a collection of Hermione quotes from the Harry Potter films. The video is just over a minute long and can be found here on the PopSugar website or below.
Many thanks to the folks at PopSugar TV for sending these videos along!
PopSugarTV on the Red Carpet

Hermione's Words of Wisdom