Stolen First Edition of Philosopher's Stone Found in a Plastic Carrier Bag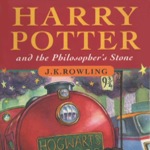 Nov 18, 2010
The BBC today reports the recovery in Abingdon of a limited first edition of Harry Potter and the Philosopher's Stone, which was stolen from an Oxfordshire art gallery. The copy is valued at almost £6,000 and was stolen from Woodstock's Creative Art Gallery on the 30th of October. A 36-year-old local woman has been arrested on suspicion of theft.
Rare books dealer Adrian Greenwood from Oxford, who owns the book,
said, "I'm very happy to discover the book has been found and I want to
wholeheartedly thank Thames Valley Police for all the work it has done,
and is still doing, in connection with this investigation." According to the BBC article, the book was found on Monday in a plastic carrier bag outside Boots, in Bury Street:

Officers say they would still like to speak to a man seen on CCTV in the gallery. […] Police said the book – one of between 300 and 500 copies published – was taken from under a display box while the assistant was occupied by a group of people.
Thanks to Chris for the heads up!