"Deathly Hallows: Part 1" Earned $24 Million for Midnight Shows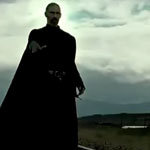 Nov 19, 2010
Variety is reporting that the midnight box office results for "Deathly Hallows: Part 1" are $24 million:
Warner Bros. kicked off what likely will be a boffo opening weekend for
"Harry Potter and the Deathly Hallows: Part 1," launching the film at
3,700 midnight runs for a late-night take of $24 million.
Pic screened at a record-setting 238 domestic Imax screenings,
contributing $1.4 million, which surpassed the company's previous $1
million midnight record holder "The Twilight Saga: Eclipse."
Overall, "Hallows" fell short of catching "Eclipse's" $30 million
late-night record, though that film benefited from a more rabid young
femme demo and a shorter runtime, as well as its less restrictive summer
berth.
Warner will screen "Hallows" this weekend at 4,125 U.S. locations.