Holiday Reminder! Jingle Spells 4 Going Fast!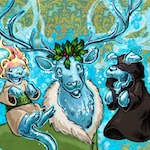 Nov 23, 2010
Have you gotten your Jingle Spells 4 yet? We are half sold out of physical copies of our popular holiday album – and shipments are going out this week so don't wait!
Also, we are offering a deal: since we have only about 250 copies of the amazing, two-disc Leaky Live CD from LeakyCon 2009 left for sale (get that here), we are offering $10 savings: buy Jingle Spells 4 with the Leaky Live CD and you will get both for $25. That's three full CDs of rock. Click here to get it!
Don't forget, all proceeds benefit worthy causes! Jingle Spells 4 will appear on iTunes in December. (You can buy Jingle Spells 1, Jingle Spells 2 and Jingle Spells 3 on iTunes now.)
Click here for our store to buy the physical copies of Jingle Spells 4 and the LeakyCon Live CD!
Listen to samples of Jingle Spells 4 below!
"The Cold, Wild Yonder," Oliver Boyd and the Remembralls,


"When Bellatrix Came Over for Christmas/What?!," Harry and the Potters


"Yuletide Anthem," KwikSpell


"A Gift for Lucius," Draco and the Malfoys


"Baubles and Butterbeer," Siriusly Hazza P.


"Voldemort's Secret Santa," Seen and Unforseen


"I Want a New Song for Christmas," The Whomping Willows


"Funky Xmas," Solitary Snape


"The Unexpected Christmas Card," The Honeyduke's Cellar Gang


"Hogwarts Lullaby," The Veelas


"Help Me Hagrid," Justin Finch Fletchley and the Sugar Quills


"Spread the Pureblood Cheer," The Purebloods


"Happy Christmas (A Journey)," Undesirable #1


"Auror Xmas," Tonks & the Aurors


"Mrs. Lovegood's Christmas Cookie Song," DJ Luna Lovegood


"Eat You on Christmas," Leth I. Fold


"Christmas Night (Too Much Pumpkin Juice)," Slytherin Soundtrack


"Literary Echo," The Remus Lupins



"Have Yourself a Harry Little Christmas," Gred and Forge