Harry Potter Cast Members Attend Premieres and Photocalls for "DH: Part 1″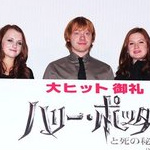 Nov 24, 2010
There have been several premieres and photocalls across the world celebrating the release of "Deathly Hallows: Part 1," and we have pictures of some of the cast in attendance at those premieres and photocalls in our Image Galleries.
You can see Tom Felton (Draco Malfoy) here at the Mexico City photocall on November 17th and here at the Mexico City premiere on November 18th.
Rupert Grint (Ron Weasley), Bonnie Wright (Ginny Weasley), and Evanna Lynch (Luna Lovegood) were at the Tokyo photocall on November 19th which you can see here.
Evanna Lynch, Matthew Lewis (Neville Longbottom), James Phelps (Fred Weasley), Oliver Phelps (George Weasley), Mark Williams (Mr. Weasley), and Clemence Poesy (Fleur Delacour) attended the French premiere on November 22nd which you can see here.