Making a Stop at Platform 9 & 3/4 in NYC, and Portraits of Harry Potter Fans at a Midnight Premiere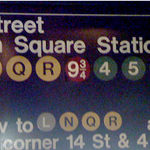 Nov 24, 2010
We have two items that show off the creativity of Harry Potter fans today. The first shows that a subway stop in New York City, along with showing the normal subway lines, has been altered with a stop at "9 3/4." The New York Daily News reports:
The charmed sticker is slapped in the slot that featured a "W" until
June when that line went out of service. The design mimics standard Metropolitan Transportation Authority signage and at first glance could pass for a relic from the defunct No. 9 line.
It's such a close match, in fact, it might lead
wizard fans to suspect an inside job. An MTA spokesperson said the
agency had no ties to the subtle Potter promotion. More likely, it was
the work of a design savvy fan.

"We are not part of any sort of Potter campaign, but I've seen things like that before," said spokesman Kevin Ortiz.
You can read the rest of the article and see a picture of the sign here.
Our second item is portraits of Harry Potter fans in costume at a midnight premiere for "Deathly Hallows: Part 1″ taken by photographer Ryan Booth. Booth also wrote a very lovely narrative of the night and of the people at the premiere:
One girl had a vintage suitcase that she really wanted to show me.
Inside the suitcase? A dozen beautifully hand-crafted wands.
Hand-carved, stained, whittled, complete with metal inlays. They looked
incredible. She was there with her husband, a literature professor. They
looked fantastic and were unabashed in their love for Harry Potter.
They see themselves in the story.
Another lady hand knit herself a Gryffindor scarf and came to the
midnight premier by herself. She wore a cape and the lightening bolt.
The interesting thing? She's an oncological surgical resident at M.D.
Anderson, arguably one of the very best cancer centers in the country.
With what (little) time I'm sure she has outside of such a demanding job
and she decided to spend some of it making her costume for a premier of
a movie about a book she loves.
Kids told us of their parents reading the very first Harry Potter
books to them as bedtime stories when they were six or seven years old.
They have literally grown up with these characters.
In the grand scheme of things does this really matter? Probably not.
But I guess that depends on what you think matters. What did I see last
night? I saw community. I saw people drawn to something outside of
themselves, I saw what happens when people engage with a story told
well. We begin to see ourselves in a different way.
Thanks very much to Emily for sending this in!